By Amanda Neilson, Manager of Clinical Practice
What is trauma and how does it affect mental health and contribute to problematic substance use/gambling/gaming?
Trauma and chronic stress are about what happens inside of us when we are involved in situations that:
are out of our control, distressing or frightening; overwhelm our existing coping skills or
chronically deny us our basic human needs like love, belonging, connection and safety.
Going through a traumatic experience or chronic stress can harm a person's sense of safety, sense of self, and ability to regulate emotions and navigate relationships long after the experience is over.
A study in Adverse Childhood Experiences (ACEs) showed that adults who experienced four or more ACEs had long term physical health impacts such as an increased occurrence of cancer, strokes, diabetes, etc., and an increased occurrence in mental health issues such as depression, problematic substance use, and suicidality.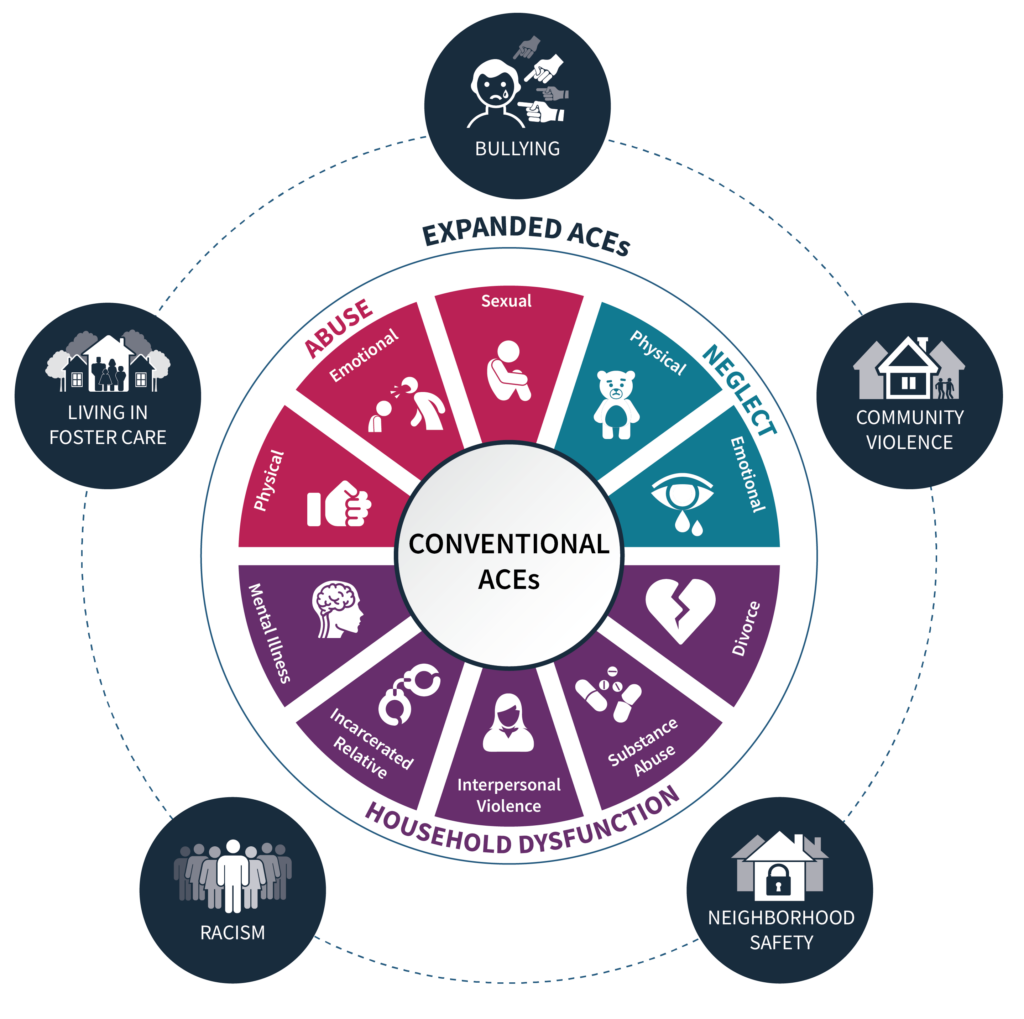 Trauma, chronic stress and ACEs also impact how our nervous system gets wired. Our nervous system helps us navigate danger through fight, flight, faun, freeze responses. When we have experienced trauma, chronic stress or ACEs, our nervous system can get stuck in fight, flight, faun, freeze responses, even when there is no danger or stress, making it hard to feel safe or okay. People can also feel shame and a sense of helplessness and powerlessness.
When the experience of trauma, chronic stress and ACEs goes unresolved, we will find different ways to relieve the ongoing stress, discomfort and pain. People may use work, gambling, gaming, shopping or substances to try to feel okay. These behaviours often provide relief, help us feel okay and regulate our nervous system in the short term. And when we find something that works, like all human beings, we will use these tools over and over again. These behaviours can work really well for a short period of time but in the long term, these ways of coping can cause us additional stress and problems.
Today, we understand that addiction isn't just about behaviours, motivations or willpower. It is an attempt to manage the unmanageable (experiences of trauma, chronic stress and ACEs). It's one of the many ways that humans cope and try to find ways to keep going when things never feel okay. So, treatment today needs to include understanding the roles of trauma, chronic stress, and ACEs in order to explore the underlying stressors and challenges in clients' lives. This is where trauma-informed care (TIC) comes in.
What is trauma-informed care?
The Canadian Centre on Substance Use and Addiction defines TIC as "services provided in ways that recognize needs for physical and emotional safety, as well as choice and control in decisions affecting one's treatment". It includes the following principles:
Trauma awareness
Emphasis on safety and building trust
Opportunity for choice, collaboration and connection
Strengths-based skill building
Why does trauma-informed care matter?
At Rideauwood, it allows us to provide the most compassionate and effective care and support to our clients. It understands that everyone is trying to be okay and trying to function to the best of their abilities. 
Because alcohol and other drugs, gambling, work, eating, and spending money work so well in the short term to manage emotions and regulate the nervous system, many folks use these substances and behaviours as the solution to the problems that trauma, chronic stress and ACEs cause. 
By providing trauma-informed care, we can support people in reducing the risks and problems caused by addiction while also supporting, educating and developing strategies to increase their quality of life that trauma and chronic stress have impacted. It supports clients and counsellors building trust and collaborating to harness the perseverance and resilience that clients already have to bring about meaningful and sustainable change.
For more information on the impact of trauma on the nervous system, check out this video (9 minutes)
For more information on Adverse Childhood Experiences, including prevention strategies and effective community responses, check out these articles.